816/ La dernière chance (1/2)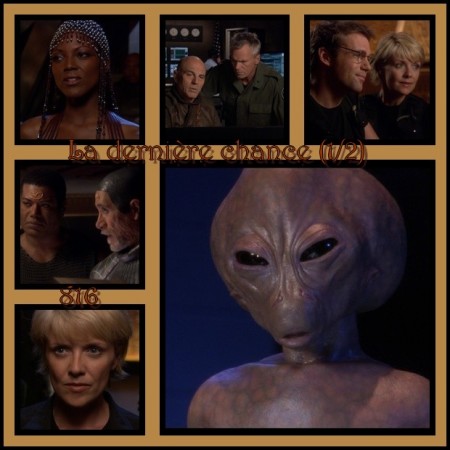 Dans la base des Goa'ulds (cf. « Sans Issue »), une sous fifre de Baal vient demander aux Grands Maîtres de se rendre. Mais ces derniers refusent. Quelques minutes après, deux super soldats rentrent accompagnés de Samantha Carter. Yu s'approche d'elle pour savoir ce qu'elle fait ici, mais elle en profite pour le tuer. Un vaisseau réplicateur apparaît alors dans l'espace, il s'agit du double réplicateur de Samantha Carter.

Pendant ce temps, autour d'une planète, dans un vaisseau Goa'uld, Sg-1 et Bra'tac attendent des nouvelles de Rak'nor. Les rebelles Jaffas ont lancé plusieurs attaques simultanées contre les Grands Maîtres. Soudain, les capteurs détectent l'arrivée d'un vaisseau. Ce dernier ouvre le feu. Teal'c choisit de riposter, en vain. Ils décident alors d'utiliser les anneaux de transport pour fuir sur la planète et prendre la Porte. Mais au détour d'un couloir, l'équipe rencontre des réplicateurs. Daniel et Sam ouvrent le feu, mais les machines ne sont pas touchées. Puis soudain Daniel est téléporté.

Au SGC, Jack reçoit la visite de Jacob Carter. Mais ce dernier est porteur de mauvaises nouvelles : les réplicateurs ont lancé une attaque d'envergure contre les Goa'ulds.

Quelques instants plus tard, Jacob explique que la Tok'ra suit les déplacements de certains vaisseaux Goa'ulds depuis quelques temps. Il utilise une des balises Tok'ra pour se connecter à un vaisseau de Baal. Sur l'écran apparaissent alors des centaines de vaisseaux. Certains d'entre eux disparaissent au fur et à mesure, des victimes des attaques des réplicateurs. Puis soudain la Porte est activée. Sam, Teal'c et Bra'tac la franchissent. Ils leurs expliquent la disparition de Daniel Jackson. Sam pense que son double veut en savoir plus sur la technologie des Anciens, en fouillant dans le subconscient de Daniel.

Quelques temps après, en salle de réunion, Jacob explique que selon ses sources, les rebelles Jaffas redeviennent fidèles à Baal. Sam ne voit pas comment se débarrasser des réplicateurs. Jack lui conseille alors de contacter Thor.

Dans les quartiers de Teal'c, lui et Bra'tac essaient de trouver une solution pour enrôler plus de rebelles. Le Jaffa décide alors de prendre d'assaut le temple de Dakara.

De son côté, Carter rend visite au Général O'Neill. Ce dernier lui explique que le sort de Daniel n'est pas de sa faute. Jack lui demande alors si elle veut utiliser la machine temporelle (cf. « Good to be King »), mais elle refuse. Davis arrive alors et annonce que Thor vient d'envoyer un message. Puis Sam est téléportée dans le vaisseau Asgard.

Là, Sam lui propose d'utiliser la connexion subspatiale des réplicateurs pour localiser la clé de cryptage qui permettra de faire fonctionner le disrupteur.

A la base, Teal'c expose son plan à Jack. Dakara est une ville sainte pour tous les Jaffas. C'est à cet endroit qu'Anubis est revenu d'entre les morts et qu'a eu lieu la première Prim'ta. Mais la cité fait partie des territoires de Baal et est extrêmement bien gardée. Bra'tac explique au Général qu'ils doivent ouvrir une guerre sur deux fronts.

Pendant ce temps, dans le vaisseau réplicateur, Daniel fait la rencontre du double de Samantha. Cette dernière veut toutes les informations que Daniel possède.

Pendant ce temps, Bra'tac et Teal'c essaient de convaincre d'autres rebelles de se joindre à eux pour prendre Dakara. Ces derniers préfèrent se concentrer sur les réplicateurs, mais Teal'c leur explique qu'ils ne peuvent les battre. Mais ils acceptent finalement de les suivre dans cette mission.

Au SGC, Jacob continuent de regarder la flotte de Baal tombée peu à peu. Il veut prévenir l'agent infiltré pour que Baal se retire du combat, et laisser ainsi plus de temps à Samantha pour trouver une solution. Mais Jack s'y refuse pour laisser une chance à Teal'c. C'est alors que la Porte est activée : l'hologramme de Baal apparaît. Il veut connaître le moyen pour détruire cette menace. Jack ironise la situation. Mais Jack refuse dans un premier temps de s'allier avec le Goa'uld.

Dans le vaisseau de Thor, l'Asgard établie le lien entre les réplicateurs. Dans le flot de données, ils parviennent à localiser les réplicateurs dans la galaxie.

Pendant ce temps, les vaisseaux des rebelles filent en hyperespace vers Dakara. Puis en arrivant prés de la planète, un Jaffa de Baal les contacte pour identification. Teal'c les somme de se rendre.

Pendant ce temps, Daniel revit sa vie après qu'Oma l'ai rendu à nouveau mortel (cf. « Retour aux sources »). Puis Oma lui apparaît. Elle lui explique alors qu'une fois que le réplicateur aura finit de sonder son esprit, il devra faire un choix.

De son côté, Baal fait un rapport à un autre Goa'uld.

Sam contacte la base. Elle leur explique qu'il leur faudra du temps pour tout décrypter, mais ils ont réussi à modifier le disrupteur pour le rendre efficace. Puis elle explique qu'avec Thor ils vont suivre quelques vaisseaux réplicateurs pour en savoir plus sur leur intention.

De son côté, Daniel parle toujours avec Oma. Cette dernière lui offre la possibilité de faire l'ascension. Mais Daniel pense que le choix n'est pas facile. Oma lui explique alors qu'elle n'a pas effacé ses souvenirs. Il comprend alors que sa mémoire cache un secret pour vaincre les réplicateurs.

Sur Dakara, Bra'tac motive ses troupes. Les Jaffas de Baal se sont tous rendus et décident de se joindre aux rebelles.

Ailleurs dans la galaxie, le vaisseau de Thor sort de l'hyperespace et s'approche d'un vaisseau Goa'uld controlé par les réplicateurs. Il ouvre le feu et l'onde du disrupteur élimine tous les réplicateurs du vaisseau. Un second vaisseau approche et fait feu. Thor réplique, en vain, et décide de fuir.

Baal rend visite au Goa'uld. Il est alors témoin d'une étrange scène : le corps de ce dernier disparaît et passe dans le corps d'un autre homme. Il s'agit d'Anubis (cf. « Lockdown »). Baal l'informe que les rebelles ont pris le contrôle de Dakara. Anubis ordonne alors que la flotte aille sur Dakara pour anéantir la rébellion.

Pendant ce temps, Oma essaie d'expliquer à Daniel comment accéder au savoir des Anciens. Daniel parle alors en métaphore, mais Oma ne comprend pas. Le double réplicateur de Samantha apparaît alors. Elle le remercie car elle a réussi à trouver les informations qu'elle cherchait.

Le vaisseau de Thor revient vers la Terre. Mais soudain Thor perd le contrôle du vaisseau. Des réplicateurs sont à bord. Il téléporte Sam au SGC et décide d'éloigner le vaisseau de la Terre.

Sam arrive dans le bureau de Jack. Elle lui explique la situation.

Dans le temple de Dakara, Teal'c se réjouit de la situation. Tolok arrive et annonce que Baal a arrêté la guerre contre les réplicateurs pour se rendre sur Dakara.

De son côté, Daniel parle avec le double de Sam. Cette dernière ne comprend pas pourquoi Oma n'agit pas alors qu'elle a tant de pouvoirs. Puis elle lui montre ce qu'elle a trouvé dans son esprit : le temple de Dakara. Ce temple renferme la seule arme capable de détruire les réplicateurs.

Au SGC, Walter essaie de contenir Baal qui attend Jack. Baal lui apprend qu'une arme cachée sur Dakara peut anéantir les réplicateurs. Il lui demande de détruire l'arme des Anciens avant que sa flotte n'arrive sur cette planète car elle peut détruire toute forme de vie. Il explique qu'Anubis la veut car il est le seul à pouvoir survivre si elle est utilisée.